Tags :
Andrew Crawford
,
Andrew Stoner
,
Asian Australian
,
Bernie Fehon
,
business
,
Businesswoman
,
CEOs
,
Dr Caroline Hong
,
John Hooper
,
life
,
Malcolm Turnbull
,
Michael Boyle
,
Peter Switzer
,
Rodney Frost
,
small and medium enterprise
,
SME Association of Australia
,
SMEs
,
Vinnies CEO Sleepout
,
Warren Bingham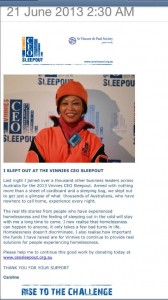 I slept out rough in a sleeping bag on cardboard sheets on a cold concrete floor on 20 June 2013 in Sydney, one of the coldest winter night in Sydney. I joined more than 1000 CEOs and business leaders all across Australia,to rise to the challenge of sleeping out rough for 1 night like a homeless person, to raise awareness and necessary funds to help break poverty cycles, and to help halve homelessness by the year 2020.
To all my donors, and supporters, I want to say a big thank you and am sending you a big e-hug for believing in me and encouraging me all the way. I am pleased that I made it at the 2013 CEO Sleepout charity event for the 4th consecutive year. I hope you will support me again in 2014. Each year I try to introduce new people to participate in the CEO Sleepout with me. This year, it was really great to have NSW Deputy Premier Hon Andrew Stoner  MP, experience a night of homelessness with us. It was also certainly no easy task. It is not uncommon to hear lots of snoring during the night, a painful type of cold seeping through your bones from the concrete floor on a winter's night, and sore backs for weeks.
At a personal level, I find myself in a reflective mood for quite a while after the event. It is a reminder of how lucky we all are living in Australia and yet sad to know that more than 100,000 peopel do not have a warm bed each night.  See http://www.ceosleepout.org.au/ceos/nsw-ceos/caroline-hong
Best wishes,
Caroline Hong
Social Share