Tags :
Action Coach
,
Andrew Stoner
,
Ben Fewtrell
,
business
,
business events
,
Businesswoman
,
Dr Caroline Hong
,
Mark Brennan
,
My Business Awards
,
NSW
,
small and medium enterprise
,
Small Business Commissioner
,
SME Association of Australia
,
SMEs
View the 2013 My Business Awards Video highlights
http://www.youtube.com/watch?v=KNzuPi1G9QU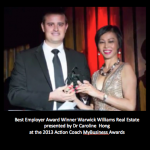 Dr Caroline Hong presented the Best Employer Award for the SME Assocaition of Australia to the Winner, Warwick Williams Real Estate.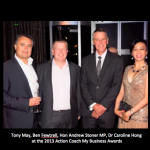 The event was attended by Hon Andrew Stoner MP, Deputy Premier of NSW, who joined in to celebrate the success of SMEs and the second anniversary of the SME Association of Australia.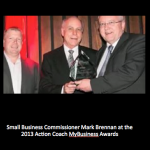 The Small Business Commissioner, Mark Brennan, was the keynote speaker , congratulating all the finalists and winners.
Social Share