Tags :
Andrew Stoner
,
Asian Australian
,
Asian Century
,
Australia
,
business
,
Business Awards
,
business events
,
Businesswoman
,
Cathay Pacific
,
Dr Caroline Hong
,
Excellence
,
HKABA
,
HKETO
,
HKTDC
,
Hong Kong Australian Business Association
,
Mike Baird
,
NSW
,
NSW Deputy Premier
,
NSW Premier
,
SMEs
The 3rd HKABA National Cathay Pacific Business Awards 2014 was held at the Westin Sydney Hotel.
Congratulations to all the Finalists and Winners on the night of 11 June 2014.
The following categories awards were presented:
Export of Goods/Services
Import of Goods/Services
Business Excellence
Business Development
Finalists include:Emperor's Garden. Rockman Australia Pty Ltd, Sasy n Sasy, Bannershop.com, The University of Queensland, Vuly Trampolines, Sirromet Wines, Thomsonadsett,Confucius Institute, Adelaide Festival Center, Flavio Sandstone, Pitcher Partners, Insync Surveys, Clenergy, TVB Australia and China Bar Group.
I was privileged to join in the celebrations with all the stars on the night and enjoy a great HKABA event with many business colleagues. It was also great to meet NSW Premier Hon Mike Baird MP and NSW Deputy Premier Hon Andrew Stoner MP.
More about the HKABA here http://www.hkaba.com.au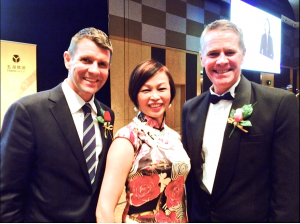 Photo L-R: NSW Premier Hon Mike Baird MP, Dr Caroline Hong President of China HR Australia, NSW Deputy Premier Hon Andrew Stoner MP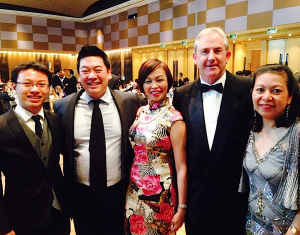 Photo L-R: Albert Leung, Dion Woo, Dr Caroline Hong, David Thomas, Lucinda Chan
Social Share