I was privileged to attend the 2014 Real Estate Business Awards Dinner at The Event Centre at The Star in Sydney on 17 July 2014. I wa a invited as I was one of the judging panellists to decide on the winners in the three categories, Individual, Group and Corporate.
It was a great event, organised by Sterling Publishing, attended by more than 750 people. The major sponsor of the event is Domain, and supported by many other sponsors on the night. Although it wa sonly the 2nd Annual event, it is already gaining so much interest from the industry that the organisers are anticipating an even bigger event next year.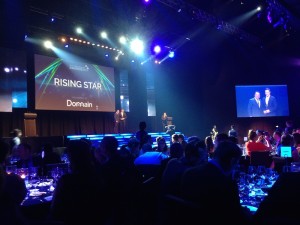 I have written about the value in celebrating success in a previous blog. I find it fantastic that the real estate industry is recognising and promoting excellence in its industry.  The Awards event is one sure way of encouraging  real estate agents to look at themselves against a series of criteria to be selected as Finalists and to win the awards,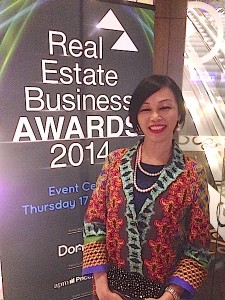 Photo: Dr Caroline Hong – Judging Panellist for the 2014 Real Estate Business Awards, Australia.
This year's Finalists are of a high calibre. It was hard to judge. All Finalists are to be congratulated in their efforts to win.
The following winners were announced o 17 July 2014 at the Awards dinner event.
Congratulations to the winners of the 2014 Real Estate Business Awards Winners:
INDIVIDUAL AWARDS
Real Estate Business Excellence Award
Ewan Morton
Morton & Morton
Rising Star
Alex Waters
Crawford Realty
Auctioneer of the Year
Will Hampson
My Auctioneer
Residential Mortgage Broker of the Year
Scott Cameron
LJ Hooker
Office Administrator of the Year
Emily Kuhn
Elders Real Estate
BDM of the Year – Property Management
Stephen Fitzsimon
Melbourne Real Estate
Property Manager of the Year – Regional
Laura Barich
Advantage Property Management
Property Manager of the Year – Metropolitan
Leah Calnan
Metro Property Management
Principal of the Year – Regional
Mark Kentwell
PRDnationwide
Principal of the Year – Metropolitan
Andrew Keleher
Jellis Craig
Industry Thought Leader
Ewan Morton
Morton & Morton
Sales Agent of the Year – Regional
Cathy Baker
Gittoes
Sales Agent of the Year – Metropolitan
Tim Foote
Belle Property
GROUP AWARDS
Major Independent of the Year
PLACE
Boutique Independent of the Year
Wilson Property Agents
Sales Office of the Year – Regional
ACTON Mandurah
Sales Office of the Year—Metropolitan
Strathfield Partners
Property Management Business of the Year – single office
Melbourne Real Estate
Property Management Business of the Year – Multiple offices
Crawford Property Group
Best New Office
Biggin & Scott Knox
CORPORATE AWARDS
Major Network of the Year
LJ Hooker
Boutique Network of the Year
Belle Property
Best Training and Education
Real Estate Results Network
Best Innovator
Starr Partners
More details can be found on
Social Share