Tags :
Asian Australian
,
Asian Century
,
business
,
Businesswoman
,
China
,
Dr Caroline Hong
,
Hangzhou
,
Shanghai
,
small and medium enterprise
,
Trade
,
Yiwu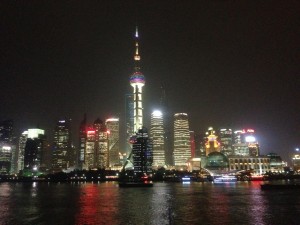 Shanghai –   Lujiazui skyline from the Bund and Huangpo River, the largest city proper by population in the world of more than 23 million people, also a city of 3 Ls. Lights, love and laughter.
I was in China recently in April 2013 and spent time in Shanghai, Hangzhou, ZhuJiaJiao and Yiwu. I covered first to fifth tier cities over 11 days attending to various business events, forums, networking breakfast, lunches, dinners, expo and meetings. I travelled by air, bus, car, boat and train to fully experience the Chinese way of life and doing business. Even as a Chinese, Malaysian Australian, I find I am learning new things everyday from the experience. A country with 7000 years of culture, 5000 years of civilisation and 100 years of hardship, we have much to learn from the mainland Chinese. They are so resilient and so enterprising as people, friends, colleagues and business partners.
View a video from Think Global with David Thomas at the Australia China Business Week in Shanghai and Hangzhou10-13 April 2013.
You tube Video:  http://www.youtube.com/watch?v=KZ7Q9mAPXSg
Follow my twitter feed @CarolineHong and Facebook Caroline Hong's Page
Social Share