Tags :
Andrew Stoner
,
Asian Century
,
business
,
business events
,
China
,
Chinese millionaires
,
David Thomas
,
Dr Caroline Hong
,
Guangdong
,
investment
,
Jin Wei
,
luxury
,
NSW
,
Think Global
,
Trade
,
yacht
,
Zhuhai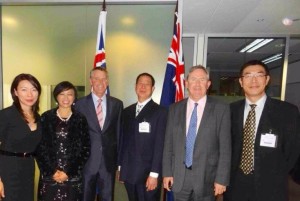 10 July 2013
The Zhuhai(Australia) Yacht Industrial Garden, a luxury yacht lifestyle project, reaffirms the NSW-China Guangdong sister-state relationship. There will be massive commercial business & investment opportunities for NSW companies, including SMEs, to play a part in the development of this luxury yacht resort project. The yacht industry development in Zhuhai with its advantage of proximity to Macau and Hong Kong, has huge market potential in China for the growing population of Chinese millionaires seeking luxury consumption and lifestyle. Look out for a Australian delegation to Zhuhai soon.
On 10 July 2013, Think Global CEO David Thomas, Dr Caroline Hong and Vanessa Xing joined Mr Xinhuang Chen, Chairman and Andrew Lu, MD of the Jinwei (Australia) Yacht company in announcing the launch of the project which will take place in Zhuhai. This announcement was conveyed by Mr Chen to NSW Deputy Premier, Acting Premier Hon Andrew Stoner in Sydney. This was intended to reaffirm the sister- state relationship between Guangdong and NSW. It is an opportunity for NSW companies to export its yachting and marina expertise, products and services to China.
Social Share