Tags :
ageing
,
Asian Australian
,
Asian Century
,
business
,
China
,
Diagnostics
,
Dr Caroline Hong
,
Healthcare
,
LanCare
,
medical
,
patient
,
Pharmaceuticals
,
physician
,
population
,
Shenyang
,
urbanisation
China has become significantly more conscious about the importance of health, food safety and medical services as a result of some of its well publicised challenges:
rapid urbanisation
an ageing population
pollution and environmental degradation, leading to severe concerns about food safety, air quality and water sanitation
changing diets and lifestyles, leading to a sharp increase in western style health problems and diseases (for example, the number of diabetics in China has doubled in the last 5 years to over 100m people)
China's public hospital system, which in many areas is antiquated and under severe pressure, suffers from a lack of funds compared to more developed countries. The Chinese Government allocates only 5% of its total GDP to the provision of healthcare services (hospitals, medication, equipment, drugs etc.) which is less than half of most western countries and one-third of the US, but this is expected to rise to 7%, representing a public healthcare sector of over US$1 trillion by 2020. At the same time, its encouraging the development of new privately owned healthcare players and providers with a plan to double the number of private hospitals and facilities by 2020.
The current five year plan identifies the bio-technology and bio-medical sectors as the key strategic innovative industries of the future and large multi-national companies are identifying significant opportunities to participate in the demand for world class expertise, knowledge, products and services in many areas:
• Diagnostics and Treatments
• Pharmaceuticals and Health Supplements
• Medical equipment and devices
• Physician and Patient education
Whilst starting from a fairly low base, the growth in demand in these areas is expected to rise by over 20% per annum for the foreseeable future.
With over 300 million people still to be urbanised, and more than 500m people expected to enter middle class income brackets in the next 30 years, China's healthcare sector represents a major growth opportunity for foreign and local players. Our recent visit to the headquarters of Lancare, one of China's fastest growing private healthcare players, is a great example of how the landscape is changing. 
Click here
 for more details.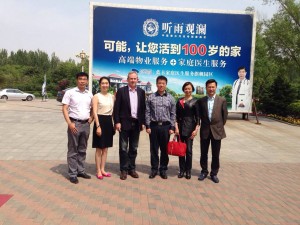 Social Share