Tags :
ACYA
,
Asian Australian
,
Asian Century
,
Asians In Australia
,
Australia China Youth Association
,
business
,
Businesswoman
,
Dr Caroline Hong
,
Jobs
,
Julie Lamberg-Burnet
,
success
,
Sydney School of Protocol - Asians in Australia
,
universities
,
Youth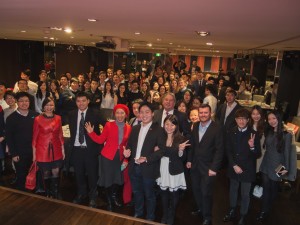 When I looked around the room at the faces of all the young well-dressed and enthusiastic people at the recent Young Professionals dinner banquet in Sydney, I was pleased.
The Australia China Youth Association (ACYA) hosted a Young Professionals banquet dinner, organized by Cynthia Yuan, President  of the Macquarie University Chapter. The event was sponsored by the Confucius Institute of UNSW.
ACYA is a wonderful organization of young Australian and Chinese professionals generally aged between 18 and 24.
I felt privileged to be an invited speaker and to join a panel of expert speakers at the recent ACYA Young Professionals banquet dinner.
I was equally impressed by how well the Q and A session was moderated by Brett Edman who spoke fluent Mandarin. The President of the Macquarie University chapter of ACYA, Cynthia Yuan, organized a great event, which was enjoyed by about 100 young professionals. Elegant and composed one could tell Cynthia had everything under control for a successful evening.
The Consul Liu Jianbo, Education Office, Consulate-General of the People's Republic of China in Sydney led the evening with some friendly opening remarks. Each of the invited speakers gave a short presentation about their journey in their careers.
Everyone has a story.
We each shared our experience and insights to inspire the young professionals, so that they can navigate through the Australia and global landscape to chase their dreams without fear and not to give up too quickly.
The panel speakers included
Dai Le, Founder and CEO of Diverse Australasian Women's Network (D.A.W.N.), Member of the Advisory Board for Multicultural NSW
Andrea Myles, CEO of China Australia Millennial Project (CAMP)
Julie Lamberg-Burnet & Dr Caroline Hong,Co-Founders of Sydney School of Protocol – Asians in Australia (SSOPAA)
Laurie Pearcey, Director of China Strategy & Development, UNSW
I realized how much I enjoyed being in a room with 100 vibrant young professionals, all of whom are passionate about Australia and China and the world. It was an awe-inspiring experience. I enjoyed the robust discussion and the questions that they asked during the Q and A.
I was so impressed with the audience, which left me thinking that the future for Australia will be left in good hands, with so many aspiring and talented leaders in the audience.
Many came up to talk and connect with the speakers. Unlike most events where the VIP speakers would leave early after the speaking engagement, the best gift we could give to the young people was to give them our time and attention, so we stayed around, to answer their burning questions.
Dawn, Andrea, Laurie, Julie and I did just that. We gave them our time and attention.
There was a queue and not to my surprise, their immediate concerns were mostly about career matters and how we got to where we are today.
The young professionals were unique:
They are young and very well informed
They are polite and know how to ask lots of good questions.
They listen well and soak in at rapid speed
They are ambitious
They are curious about other people's stories and found the stories gave them hope and inspiration
They care about the world
They want to be part of the future for Australia and China
They are aspiring leaders who could take care of Australia's future.
They have happy and optimistic faces
It is easy to love them all
Useful link about ACYA:
More useful links
www.sydneyschoolofprotocolasiansinAustralia.com.au
www.sportsaviationaustralia.com
www.confuciusinstitute.unsw.edu.au
Photo credit, thanks to Damien Maldonado, MQU Communicaions Director, ACYA
To connect with me please go to www.carolinehong.com.au
To find out more about the Sydney School of Protocol-Asians in Australia, that Julie Lamberg-Burnet and I co-founded, please go to www.sydneyschoolofprotocolasiansinAustralia.com.au
If you have any HR requirements, please check out www.chinahr.com.au and Asiahr.com.au
If you have a love for recreational sports aviation, flying a light aircraft, for a career path to an aviation career or for fun, look out for updates on our new project www.sportsaviationaustralia.com
Social Share