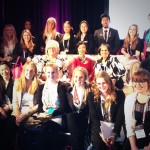 I am proud to be Ambassador for Australian Business Events Expo (ABEE), which is an annual event attended by thousands of visitors. This year ABEE & Events Showcase ran from 14-15 Aug.
"Australian Business Events Expo offers a gateway to industry suppliers from throughout the country. In 2013 exhibitors from throughout Queensland, Northern Territory, Western Australia, South Australia, Victoria, regional NSW and Tasmania are joining the show, delivering a diverse offering to visitors and a more accurate representation of the national business events industry. Australian Business Events Expo is dedicated to meetings, incentives, conferences and business events. It is the most comprehensive and direct platform for organisers of business events to reach leading industry suppliers."
I enjoyed supporting the business events industry today facilitating and chairing a full house session attended by more than 250 students who will soon one day graduate from College and work in the Business Events industry (conferences, meetings, exhibitions, incentives). I was pleased to facilitate two inspiring women presenters Lena Malouf and Jennene Wardrop in a Q and A session, with a most attentive and wonderful audience in Sydney today.
Social Share