Tags :
AFFHK 2014
,
Asian Australian
,
Asian Century
,
Asian Financial Forum
,
Austrade
,
Australian Mission
,
business
,
business events
,
Businesswoman
,
China
,
Culture
,
David Thomas
,
Dr Caroline Hong
,
Hong Kong
,
Invest in Australia
,
investment
,
investments
,
Shenzhen Stock Exchange
,
small and medium enterprise
,
success
,
Think Global
,
Trade
18 Jan 2014 – Asia Powering up Global Growth
In January 2014, twenty one Australian business leaders joined Mission Leaders, Think Global David Thomas and Dr Caroline Hong, on an Australia Mission to the Asian Financial Forum in Hong Kong and mission to Qianhai economic zone, Shenzhen Stock exchange and BYD headquarters in Shenzhen, China. The Invest In Australia stand was the only Australian stand in the Global Investment Zone at a forum attended by more than 2000 delegates from all over the world. The Deal Flows sessions were very popular amongst the Project owners, investors and intermediaries from more than 23 countries.
There were several key messages from the AFF 2014. Asia powering global financial growth will have the highest impact on global financial landscape. The US Monetary tapering is seen as the greatest global risk in 2014. About 40% say the economic outlook for 2014 is optimistic. Only 10% feel it is pessimistic.
Some video highlights:
Interview with Alan Bollard APEC 
Critical next phase of China's urbanisation 
John Rice GE – Next Wave of innovation  
Michael Smith – Japan's role in Tapering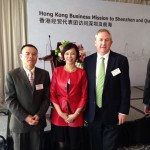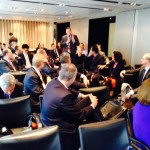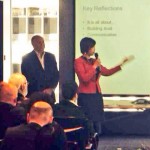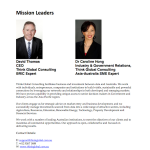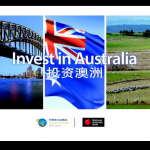 ——————————
8 Jan 2014
In January 2014,  the Think Global team, CEO and BRIC expert, David Thomas and Asia Australia SME Expert, Dr Caroline Hong are heading off to Hong Kong and China, as Mission Leaders for a group of elite Australians to the 2014 Asian Financial Forum in Hong Kong, followed by a business program in Shenzhen, China and with Hong Kong business leaders, to explore business, trade and investment opportunities. There will also be lots of networking and connections to build and nurture business relationships, all of which are crucial for long term success and happiness in our busy working lives.
We will be proudly promoting that Australia is certainly open for business!  Everyday Australians can each do their bit to convey the message to the world that "AUSTRALIA IS OPEN FOR BUSINESS".  Our Australian Mission delegates are strong business people and entrepreneurs willing to invest in themselves to seek opportunities offshore and to connect globally.
Don't worry if you have missed out on this year's mission as we are already planning the 2015 Australian Mission program. We certainly would welcome our Australian PM Tony Abbott, AustralianTreasurer Joe Hockey and State  government  leaders to join our delegation next year at this annual event.
Our 'Invest In Australia" booth will be a key highlight and focus point in the Global Investment Zone.
More than 2000 international delegates, large enterprise, and Small and medium enterprises will  gather  in Hong Kong on 13-14 January 2014 at the HKCEC.  Particpants will be actively engaging at business forums, networking events, deal flows, business matchmaking sessions and busy connecting and building relationships. We are grateful to National Australia Bank  for supporting the Invest in Australia booth.
Here are some useful links to have a glimpse of  all the opportunities that are open when "AUSTRALIA IS OPEN FOR BUSINESS"
The 2014 Australian Mission to the Asian Financial Forum in Hong Kong delegation profiles can viewed here
Delegates include CEO of Financial Services Council, John Brogden and many others professionals from across various financial and investment sectors.Project owners, investors, service Intermediaries, government, media and associations will all  be there at this event.
Find out more about the  Think Global Australian Mission to the Asian Financial Forum 2014
More  here  http://www.asianfinancialforum.com/en/index.htm
View the Think Global website here http://www.thinkglobal.com.au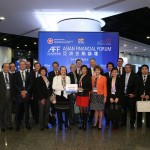 Photo: Last year's Australian Mission to the AFF HK 2013.
"Think Global Consulting facilitates business and investment between Asia and Australia. We work with individuals, entrepreneurs, companies and institutions to build viable, sustainable and powerful connections by leveraging our networks and relationships in both developed and emerging markets. We have proven capability in providing unique access to senior decision-makers in Government and Industry across the Asia Pacific region.
Our clients engage us for strategic advice on market entry and business development, and we successfully manage investments sourced from Asia into a wide range of attractive sectors, including Agriculture, Resources, Education, Renewable Energy, Technology, Property Development and Financial Services.
We work with a number of leading Australian institutions, to meet the objectives of our clients and to maximise all commercial opportunities. Our approach is open, collaborative and focused on delivering results."
Contact Details: E: support@thinkglobal.com.au T: +612 9267 1488  W: www.thinkglobal.com.au
Social Share