CEO SLEEPOUT 2013: More than 100,000 Australians find themselves homeless each night. We can all help to halve homelessness by 2020.
This year, for the 4th consecutive year, I will be sleeping out rough for 1 night on 20 June 2013, the coldest month in Sydney, to raise awareness and much needed funds to support homeless services and the people they help across Australia.
The St Vincents de Paul Society CEO Sleepout gives CEOs from a variety of different organisations across a range of industries a taste of what it is like to be homeless for one night.
The CEO Sleepout event raises funds to help provide homeless Australians, the dignity, safety, warmth and skills to get back on their feet again.
HOW CAN YOU HELP?
You can support my sleepout by visiting the website and donating to this worthy cause.
http://www.ceosleepout.org.au/ceos/nsw-ceos/profile/?ceo=346
or visit http://ceosleepout.org.au/ Search NSW CEO and type "Caroline Hong"
Your generosity will help Vinnies homeless services to expand their programs to provide real alternatives to homelessness and to truly offer a hand up, not only a hand out.
• 58% of homeless people are under 35 years of age
• 44% are women and;
• 12% are under 12 years of age
Children who are homeless are more likely to become homeless later in life and raise families who, in turn, also become homeless. Children in homeless families are more at risk of experiencing disadvantage and homelessness over their lifetime. You can guess why we haven't solved the problem.
By blaming people for their own homelessness we create more homelessness.
To find out more about the CEO Sleepout, visit
http://www.ceosleepout.org.au/
http://www.youtube.com/watch?v=N3YX8wTSWyc(featuring Dr Caroline Hong, Seal, Constance & Vinnies 2012)
http://www.youtube.com/watch?v=3IRvlk5sgEo (featuring a family story) 2011
I will need to reach my goal of raising a minimum of $5000 through
• 100 donations of $50 each
• 50 donations of $100 each
• 25 donations of $200 each
• 5 donations of $1000 each
• A combination of any of the above
All and more of every donation will go directly to the Vinnies CEO Sleepout for homeless services.
Please remember to leave a message when you make your donation so that I can thank you and know who you are.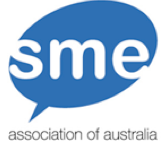 The SME Association of Australia is a supporting organisation for the 2013 Vinnies CEO Sleepout , encouraging business leaders to register for the event and/or support the charity event, and raising awareness and necessary funds for homeless services
Social Share