Tags :
advisory boards
,
Andrew Robb
,
Asian Australian
,
Asian Century
,
Austrade
,
Boards
,
Businesswoman
,
CH Asia Australia
,
CH Asia Australia Pty Ltd
,
CHAFTA
,
China
,
Culture
,
Dr Caroline Hong
,
Education
,
entrepreneurs
,
Export
,
Free Trade Agreement
,
Gao Hucheng
,
investment
,
NSW
,
small and medium enterprise
,
SMEs
,
speaker
,
success
,
Sydney
,
Tony Abbott
,
Trade
It is a historic day on 17 June 2015 when our Trade and Investment Minister Andrew Robb and Chinese Commerce Minister Gao Hucheng signed the China-Australia Free Trade Agreement (ChAFTA) in Canberra.
Whilst we all know that CHAFTA will bring significant benefits for Australia, the Chinese in China are equally excited at the opportunities to get closer to Australia in trade, investment, business and greater cultural understanding.
The questions we have to ask ourselves are the same questions I asked when delivering the Masterclass sessions in Sydney, Brisbane and Melbourne to Chairmen, CEOs, CFOs and business owners in April this year on the topic of  "Doing Business with Asia"  – Don't let Asia pass us by.
Are SMEs in Australia ready? Are you one of the of businesses, still struggling to comprehend why China?
Imagine at least 85% of all exports will be tarriff free from day one of the CHAFTA when it comes into force. China, with its 1.3 billion population is a significant trading partner for Australia.
SMEs are the backbone of the Australian economy, contributing to 70% of the worforce and making up more than 96% of total businesses in Australia.
Dont' let China pass us by.. you have got to act now and start learning or getting advice on the opportunities that are open to you.
There is much to learn to better position your business to engage and expand into the China markets.  Get help from Austrade, DFAT, local business associations, and also invest in getting personalised help from business advisers who understand SMEs and who understand doing business with China.
This infographic from DFAT sums it up nicely although there is much much more.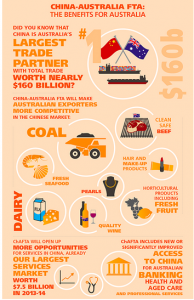 Photo credit: DFAT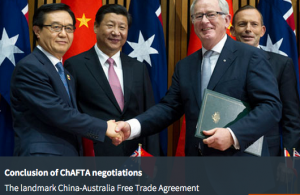 Photo credit: DFAT: Australia's Trade and Investment Minister Andrew Robb and Chinese Commerce Minister Gao Hucheng signing the China-Australia Free Trade Agreement in Canberra on 17 June 2015, witnessed by Prime Minister Tony Abbott.
Key facts include:
China is Australia's largest trade partner, with total trade worth nearly $160 billion.
ChAFTA will open up more opportunities for services in China, already our largest services market worth $7.5 billion in 2013-14. (NB: This includes all the services that Australia is famous for, including healthcare, financial services, education, tourism, legal, insurance, technology and also pilot training services)
ChAFTA will unlock significant opportunities for Australia. China is Australia's largest export market for both goods and services, accounting for nearly a third of total exports, and a growing source of foreign investment
ChAFTA includes new or significantly improved access to China for Australian banking, health and aged care and professional services.
China-Australia FTA will make Australian exporters more competitive in the Chinese market:
Coal
Dairy
Clean, safe beef
Fresh seafood
Pearls
Hair and make-up products
Horticultural products, including fresh fruit
Quality wine
Source: www.dfat.gov.au
Dr Caroline Hong is an Asian Australian business woman, offering her services to advisory boards and company boards, helping them with Asia strategies. An experienced speaker on diverse leadership and business topics. Special interest in Australia-Asia projects.
Email: carolinehong@carolinehong.com.au
Twitter: @CarolineHong
WeChat: DrCarolineHong
Social Share