Tags :
Alibab
,
Asian Financial Forum
,
Australia
,
Australia Assistant Treasurer
,
Australia China Business Council
,
billionaires
,
business
,
CEO
,
CH Asia Australia
,
CH Asia Australia Pty Ltd
,
Chairman
,
China
,
China Entrepreeur Club
,
China Entrepreneur Club Dialogue
,
China HR
,
China HR Australia
,
China Merchant Bank
,
Chinese
,
Culture
,
Dr Caroline Hong & Dr Ma Weihua
,
Dr Ma Wehua
,
Economics
,
economy
,
entrepreneurs
,
Executive Chairman
,
Finance
,
GDP
,
global
,
investment
,
Josh Frydenberg
,
People
,
SMEs
,
Sydney
,
Think Global
,
Trade
,
Wing Lung Bank
Dr Ma, Weihua, Executive Chairman of China Entrepreneur Club, China's's most influential private sector business group whose members include Jack Ma of Alibaba and Liu Chuanzhi of Lenovo led a delegation to Sydney, NSW Australia on 2 December 2014. Dr Ma , Chairman of  Wing Lung Bank is Executive Chairman of the China Entrepreneur Club, which is the richest club with member companies which have a combined value of about 2 Trillion Yuan (AUD $373 Billion), equivalent to 5 % of whole of China's GDP and 20% of whole of Australia's GDP!.
I was very privileged and honoured to enjoy a conversation with him on the Sydney cruise. It is not often that one can get so close to someone of such high status and privilege in China, and it was easy to talk to him and be naturally feel totally in awe of his position.
However at the end of the day, I realised that we are all similar in many ways. We are all passionate about entrepreneurship and business, and we are all dedicated to strengthening the linkages and opportunities for economic, trade, investment and culture cooperation between Australia and China. We create opportunities, open doors and drive the economy of our nations and contribute to global progress,  one step at a time, in small ways and on a big scale.
Relationships, tolerance, understanding culture and mutual respect .. first and foremost always!
That is why we do what we do, getting in front of people who might notice us here in Australia, whose ancestors once upon a time came from China, and several generations later, desire  and work hard to link back to the country and heritage of our ancestors.
Unless you are an overseas born Chinese, having lived far away from your homeland for decades, it would be very hard for you to understand why we do what we do.
Thank you to the Australia China Business Council for organising this event with the China Entrepreneur Club and the China Entrepreneur Club  Dialogue in Sydney on 2 December 2014.
I learn many valuable fresh insights from that day. Thank you. All the best to the people who have continued the dialogue and conversations from that event.
Note: Dr Caroline Hong, CEO of CH Asia Australia, together with David Thomas of Think Global Consulting is leading a delegation of Australian business leaders and owners to Hong Kong and China for the "Invest in Australia" business mission. The Hon. Josh Frydenberg MP, Australia's Assistant Treasurer, will be meeting with the Australian delegation exclusively at the Hong Kong Club before the Asian Financial forum begins in Hong Kong.
Photo1: Dr Caroline Hong with Dr Ma Weihua, Chairman of China Entrepreneur Club on a Sydney Harbour Cruise on 2 December 2014. Also in the photo is my business colleague and friend, Mr Peter Wong, MD of Asia Invest.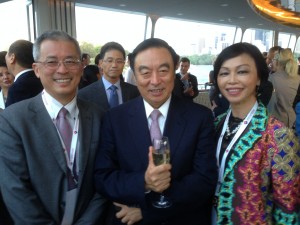 More photos: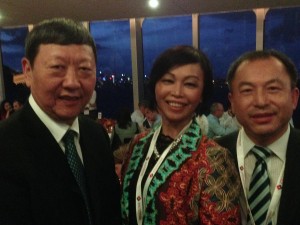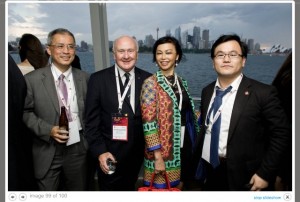 Social Share