Tags :
Asian Australian
,
Asian Century
,
association
,
Australia China Business Week
,
business
,
Businesswoman
,
China's 5 Year Plan
,
China's Policy
,
Clean Energy
,
Comptitiveness
,
CPA
,
Dr Caroline Hong
,
Education
,
Financial Services.
,
GDP
,
Going Out
,
Going West and Going Green
,
Healthcare
,
investments
,
Lucky Country
,
Michael J. Enright
,
Minister for SMEs
,
Prof Richard Petty
,
Qantas
,
small and medium enterprise
,
SME Association of Australia
,
SMEs
,
success
,
Sydney
,
Technology
,
Tourism
,
Trade
,
Virgin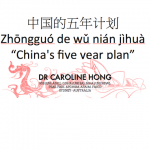 CHINA'S 12th FIVE-YEAR PLAN AND YOU
"With China modernising, Australia has to sharpen its competitiveness to shift from being a lucky country to a competitive country."
In China it's quite remarkable that almost every level of government and the people of China seem to know about their country's 12th Five-Year plan, which identifies three key priorities for China – Going Out, Going West and Going Green (OWG). We are seeing an influx of companies, some directed from the Chinese government, wanting to make strategic investments in Australia, in alignment with this Five Year-Plan and to invest in industries that enhance and develop China's own capabilities. Of particular interest are Education, Healthcare, Technology, Clean Energy, Tourism and Financial Services.
China's three key priorities have created unprecedented interest from Chinese SEOs (State Owned Enterprises), entrepreneurs and ultra high net worth investors and business leaders in Australia.
There is an influx of delegation groups visiting from China representing various business and cultural organisations who are keen to engage with Australian businesses to find out what Australia has to offer in alignment with China's OWG priorities. It is this increased interest that we have to wake up to and prepare the nation for these opportunities. China's global influence in the world economy and international markets is viewed as one of the most remarkable revolutions of the 20th Century. Chinese companies such as Huawei, Haier, China Southern, China Eastern, Kingold, HNA Group, Bank of China, Overseas-Chinese Banking Corporation, United Overseas Bank and Industrial and Commercial Bank of China are already established in Australia.
From Chinese investors living in Australia there is also a growing interest in joint partnerships investments in regional areas of Australia, especially in wineries, golf courses and property development. With the right business partnerships, these activities will help boost development and grow jobs.
With China modernising, Australia has to sharpen its competitiveness to shift from being a lucky country to a competitive country. Of great relevance and interest to politicians, government agencies and business leaders is the recent findings from Australia's Competitiveness: From Lucky Country To Competitive Country, a new book by Richard Petty and Michael J. Enright that challenges the thinking of Australia as a lucky country. Commissioned by CPA Australia, the book takes into account more than 6,000 survey responses on Australia's competitiveness and provides valuable insights to enhance Australia's standing as a global leader in the knowledge economy, future growth and prosperity, and how to prevent a dramatic reversal of fortune.
Australia's competitiveness is everyone's business for a bright future for Australia in the Asian Century.
"With China modernising, Australia has to sharpen its competitiveness to shift from being a lucky country to a competitive country.": Although the Australian Asian Century White Paper details 25 objectives on seven major issues about how Australia will become a more Asia-capable and more Asia-literate nation by 2025, Australian politics have lacked clear leadership and support for SMEs in this regard. The key issues identified in the Asian Century White paper, include skills and education, innovation, infrastructure, tax systems, regulatory reform, environmental sustainability, and macroeconomic and financial frameworks.  The newly elected Australian government will have to work beyond borders to achieve these 25 objectives to create high quality Trade Agreements with our Asian neighbors to attract investments, trade and business to Australia.
I have advocated for Australia to have a Minister for SMEs for almost two years now. Many other countries recognise and support SMEs with programs that reduce costs and the burden of regulatory compliance. The vast majority of our GDP comes from SMEs, and the government needs to recognise that fact and back up this acknowledgement with legitimate support.
Dr Caroline Hong is an Ambassador for the SME Association of Australia and provides insights in helping businesses engage in the Asian Century.
This article appeared in the MyBusiness magazine, official publication of the SME Association of Australia, September 2013 issue. The magazine is also seen in Qantas and Virgin business lounges.
Social Share