Tags :
Ambassadors program
,
Asia Link
,
Asian Australian
,
Asian Century
,
Australian Business Events in the Asian Century
,
business events
,
Business events Sydney
,
Businesswoman
,
Conference
,
Dr Caroline Hong
,
Global Ambassadors
,
Global citizen
,
ICC Sydney
,
International Convention Centre
,
International Convention Centre Sydney
,
Jon HUtchison
,
Leaders
,
leadership
,
medical ultrasound'Congress
,
Visionaries
,
WFUMB
,
WFUMB 2009
,
world congress
Proud to be recognised up there on the big screen as one of the Global Ambassadors for Business Events Sydney at the Annual Ambassadors Dinner at the International Conventional Centre Sydney (ICC Sydney) on 30 November 2018. I am proud of the fact that I was one of the inaugural ten Ambassadors appointed to the role. I had the pleasure of working closely for many years prior from 2001, with the team led by Jon Hutchison, who was then, the CEO of the Business Events Sydney. I was invested at a ceremony presented by the then Minister for Tourism,  the Honorable Jodi Mckay in September 2009, immediately after the World Federation for Ultrasound in Medicine (WFUMB 2009) world congress was successfully completed over five days. The WFUMB 2009 world congress, attracted over 2400 delegates from over 70 countries, and with the largest ever delegation from Asia ( about 700 doctors and healthcare professionals came from Asian countries). The event was cited as the "Olympics of Ultrasound" and was it a success? Yes, indeed! Many stories to share about this event, which are increasingly relevant in this era of Australia in the Asian Century. Now is also the era of Australian Business Events in the Asian Century!
—
About Business Events Sydney Global Ambassadors:
"We work alongside global leaders to help attract global meetings 
From university vice-chancellors and leading scientists, to renowned researchers and business and community leaders, our Global Ambassador Program brings together international leaders, innovators and visionaries.
Importantly, they all share a deep passion for Sydney and have an invaluable understanding of what global meetings offer. They open their networks to BESydney, and working together, our combined intelligence and insights are global  game-changers for your meeting."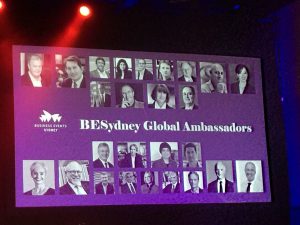 Social Share