This is how we care about homelessness.
I take this opportunity to thank you and all my supporters who have donated this year and in previous years. Collectively, many generous donors  and supporters like you, have helped me raise $11,270 this year, and over the past years, they have helped me raise over $66,163.  
Whilst there are many ways that you might care about this insidious social issue, on a cold winter night on 23 June 2016, as part of the 2016 Vinnies CEO Sleepout over 1479 CEOs experienced for one night what over 105,000 people experience every night. I was one of the CEOs who slept out, as a participant CEO and as a NSW Ambassador for the annual Vinnies CEO Sleepout charity event. There were no gala dinners or glamorous entertainment at this charity event! Instead we had to walk in the shoes of a homeless person!
Together we raised over $5,674,451 from over 40,072 generous caring donors and supporters.
Although this is my 7th consecutive year, as a participant CEO at the annual Vinnies CEO Sleepout charity event, this does not seem to get easier. We are all committed to increase the profile of homelessness and with the generous support of more than 40,072  supporters and donors, this event has raised crucial funds for Vinnies homeless services. The issue does not go away just from this one night event.
Your generous donations will not only provide immediate and emergency assistance but pathways to a brighter future. The staff and volunteers at Vinnies work very hard for this worthy cause!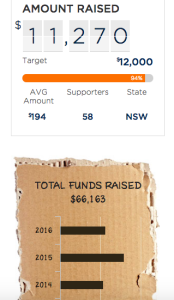 This was how Vinnies spent the money raised last year from the annual charity CEO Sleepout event.
https://www.ceosleepout.org.au/about/where-we-helped-in-2015/
The one night of sleeping out in the cold in a sleeping bag on hard concrete floor at Carriageworks in Sydney on 23 June 2016, was more than a humbling experience for me. It is a reminder to me on how fortunate I am, living in Australia, that I have a warm bed and a safe place to go home to, each night.  
Last year NSW Vinnies 
*provided $21 million worth of financial assistance
*assisted more than 400,000 people
*provided more than 820,000 meals
*provided 258,000 bed nights 
Yet we are faced with these shocking statistics 
• 60% of the homeless population is under the age of 35
• More than 17,000 Australian children under the age of 12 have no permanent home.
• Women and girls make up about 59% of all clients who access specialist homelessness services.
• Between 2006 and 2011 Australia experienced a 17% increase in people experiencing homelessness.
That is why Vinnies cares and that is why I care. Thank you for caring for this worthy cause!
Here's  a breakdown of where donations to the 2016 Vinnies CEO Sleepout  will go:
$65 can provide a weeks' groceries for a struggling woman and her children
$120 can ensure a family keeps their power on this winter
$250 can put someone through a recovery program offering short courses in life drawing, imovies and social media helping them to become work and study ready
$540 can provide three people with a literacy or computer course to help them get back into the workforce and on their own feet again
$1150 could prevent a family from being evicted from their home this winter
$5,000 can provide warm beds for 250 homeless men at our Matthew Talbot Hostel
And help bring hope to rebuild people's lives and much more…
I hope some of you can join me and register for the CEO Sleepout next year, and if you can't, please dig deep donate generously!
There is still time to donate if you are still deciding or thought it is too late because the 2016 CEO Sleepout is over.
You can still support on this link https://www.ceosleepout.org.au/ceos/nsw-ceos/caroline-hong-ch-asia-australia/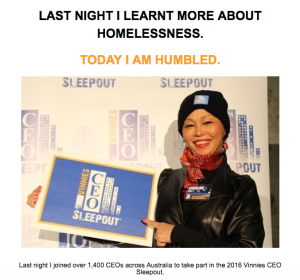 24 June 2016 – the morning after the Vinnies CEO Sleepout in Sydney
Last night I joined over 1,400 CEOs across Australia to take part in the 2016 Vinnies CEO Sleepout.
In doing so, I gave up many of the familiar comforts that are often taken for granted. My warm, comfortable bed was replaced with cold, hard concrete. My safe and secure home with a cardboard box. A hearty, homemade meal with a humble cup of soup.
It was a cold, uncomfortable and restless night but I would not trade a minute of it because it gave me a very small glimpse into the harsh reality that over 105,000 people are faced with every single day.
No one deserves to live this way. Especially not the 17,000 children who make up part of this figure.
Tonight, I will be back in my own warm bed. But unfortunately this is not an option for the men, women and children who have no home to return to.
Just because the event has come to an end, it does not mean that Australia's homelessness crisis is even close to ending.
It's not too late to sponsor me at ceosleepout.org.au and help invest in real solutions for people without a home.
** Thank you to all caring donors supporting the efforts of Dr Caroline Hong, in the 2016 Vinnies CEO Sleepout, raising funds for homeless services.
Donations were received from these generous donors in 2016:
Hon Andrew Stoner
Vera Hong
Craig Bender
Edward Lee
Dr Amen Lee OAM, ACETCA
Rod Mcgeoch
Jon Isaacs
Norm Boyle
Boyle Family
Jason Parker
Brad Stebbing
Joseph Assaf
Angela Assaf
Sheba Nandkeolyar
Prof Ron Benzie
Dr Chris Hodge
Dr Ron Shnier
Dr Regan Terry
Dr Jonathon Farrell
Mike Cannon
Annie Mehra Cannon
Grace Ng
Nick Koerbin
Paul Chan
Peter Falk
Gerard Stevens
Ethe Stevens
Amanda Blesing
Ryan Gollan
Adler Ho
Daniel Kwan
Jessica Bell
Natasha Flynn
Alison Reilly
Mark Khoo
Anthony Sim
Peter Beck
Josh Roberts
Carolyn Shi
Dr Zoe White
Lilly Jia
Monika Tu
Rowena Chen
Heidi Han
Hong Huang
Lydia Zhang
Danielle Chan
Mandy Van
Stella Li
Jennifer Lin
Tracy Ren
Ivy Han
Kitty Zhang
Susan Yu
Sukey Xu
Kelly Wu
Family members of Caroline Hong
And other anonymous donors
Social Share