Tags :
Australia
,
Bernard Fehon
,
Charity event
,
Donations
,
fundraising
,
Gratitude
,
Homelessness
,
Hope
,
inspiration
,
Luna Par
,
Malcolm Turnbull
,
Michael Perusco
,
Minister of Communications
,
Nicholas Gray
,
NSW
,
St Vincents de Paul
,
Sydney
,
The Australian
,
Vinnies
,
Vinnies CEO Sleepout
,
Warren Bingham
10th Anniversary, $10 Million and 100,000 reasons Sleeping Out ..
There are at least 100,000 reasons why we wish to raise $10 Million on this 10th anniversary year of the CEO Sleepout
A BIG THANK YOU to all my generous supporters who have donated. You have helped me raised $15,308.00 this year for Vinnies homeless services. This year is my 6th year of participation in the Vinnies CEO Sleepout. Thank you to all the Vinnies staff, volunteers, sponsors and all the brave 1247 CEOs across Australia who participated!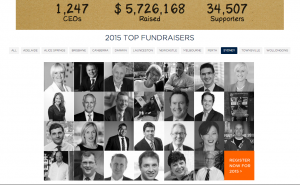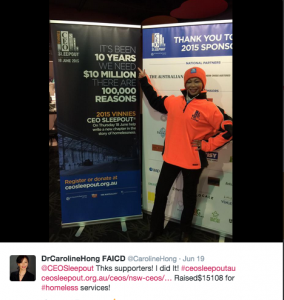 At the time of writing,
1,247 CEOs Participated
$ 5,727,491 Raised   (We are aiming for $10 Million)
34,523 Supporters /Donors (We are aiming for more people to be supporting and donating online to the participating CEOs)
The site will stay open for a while for donations . Please help spread the message. https://www.ceosleepout.org.au/ceos/nsw-ceos/caroline-hong-ch-asia-australia/
Why do we do what we do?
My journey began when I slept out in June 2010 at Sydney Luna Park, registering as a first timer with good friend, CEO buddy and mentor, Ashley Spencer, VP of Hilton Worldwide Australasia. Ashley sadly passed away after a long illness on 10th April this year. We pay tribute to this selfless gentleman who left a lasting legacy for the Vinnies CEO Sleepout for homeless services.
Participating in the Vinnies CEO Sleepout is not a one night event.
CEOs and business leaders do it to help Vinnies raise awareness and necessary funds to help Vinnies continue to provide services for the disadvantaged and the homeless. CEOs and business leaders are often well positioned to be role models to our colleagues, friends and families to help spread the message and to influence and shape society attitudes, community programs and government policies affecting homelessness.
On Thursday 18 June 2015, as I took part in the 10th annual Vinnies CEO Sleepout and slept out cold in Sydney Luna Park, it was also a night of reflection, loaded with emotions of GRATITUDE, INSPIRATION, HOPE and remembering loved ones who are no longer with us, including my courageous mum who raised ten children.
Alongside 285 CEOs at the Sydney Luna Park CEO Sleepout event and some 1,247 CEOs across the country, I awoke the next morning, feeling humbled.
A very kind woman CEO next to me gave me a piece of her cardboard sheets. It helped me through the night. The wind sideways brought raindrops on to my sleeping bag. It was bearable because it is only for one night.
The stark sad reality is more than 105,000 people in Australia go through this homelessness despair every night, 17,000 of whom are children. Some 17,000 kids in Australia have no home and are forced onto the streets because of family violence.
All the funds that are raised will go towards helping Vinnies homeless services.
See who Vinnies help:
https://www.ceosleepout.org.au/about/who-we-help/
See where and how Vinnies help
https://www.ceosleepout.org.au/about/where-we-helped-in-2014/
Here are some examples of how Vinnies NSW helped in 2014. $2,030,865
Support of vocational education and employment programs  delivered through the Ozanam Learning Centre, which includes living skills classes and creative activities including art, pottery, writing and music.
Fund the planned roll out of the successful Ozanam Learning Centre model to a regional centre in NSW.
Fund food and accommodation services for people experiencing homelessness.
Provision of crisis and affordable medium-term accommodation to support individuals and families achieve sustainability in their lives.
THANK YOU FOR YOUR SUPPORT.   I hope you will continue to support me next year, in the 2016 CEO Sleepout.
More on Twitter, LinkedIn, Facebook,  WeChat, Instagram and Weibo
Twitter @Caroline Hong
Linkedin:https://au.linkedin.com/in/drcarolinehong
Facebook: Caroline Hong's Page  www.facebook.com/CarolineHongAustralia
Instagram: @dr_caroline_hong
Weibo: Dr_Caroline_Hong
WeChat: DrCarolineHong
Warm regards,
Dr Caroline Hong FAICD
BDS (Uni Adel). GDHA (Uni SA). MHA (Uni NSW). FSAE. FADI. AFCHSM. FAICD
Email: carolinehong@carolinehong.com.au
Mobile: +61 410474898
Website: www.carolinehong.com.au
View previous posts on my participation in the CEO Sleepout
https://carolinehong.com.au/page/3/?s=CEO+sleepout
Special Thanks to the mighty Team from Sarawak Convention Bureau cherring me on and the wonderful cabin crew at Qantas on 18 June 2015.
Special thanks to many generous friends who have donated.
Photos with CEO Sleepout participants on 18 June 2015 at Luna Park in Sydney.  Malcolm Turnbull, Bernard Fehon, Nicholas Gray, Michael Perusco, Warren Bingham and more..
Social Share