Dr Caroline Hong was Master of Ceremonies at the Import Export Industry Awards
Andrew Stoner, NSW Deputy Premier and Minister for Trade and Investment and Minister for Regional Infrastructure and Services, also delivered a powerful speech at the event, sharing NSW's vision and plans for growing international competitiveness. It was a welcome message to hear Stoner acknowledge the contribution that international trade facilitators make everyday by devoting their business to supporting SMEs in international trade to succeed and grow. Furthermore, Stoner recognised the significant contribution of SMEs to the NSW economy.

(L-R) Barbara Sullivan, Dr Caroline Hong, NSW Deputy Premier Andrew stoner, Miriam Feiler. (David Gross Photography)
The SMEAA congratulates Miriam Fieler and Barbara Sullivan, co-owners of the Import Export Show, and to the 2012 Import Export Industry Awards Winners. Here are the winners in the eight different categories:
1) Arab Bank
2) Oncall Commercial Interpreters & Translators
3) Clearly Business
4) Atlas Currency Exchange
5) Australian Customs & Border Protection
6) DHL Express
7) JJ Lawson
8) Salesforce CRM

The winners of the 2012 Import Export Industry Awards in Sydney on 24 May 2012. (David Gross Photography)
The 2012 Import Export Industry Awards saw bigger numbers of companies nominating and more customers voting for their suppliers. Winners were voted based on excellence in customer service and innovation. The SMEAA is very proud to play a vital role in helping to help raise the profile and awareness of import export SMEs at this event. Our collaborative efforts at this event are just one example of how the SMEAA continues to advance its objectives through collaboration with other organisations to better serve the SME sector.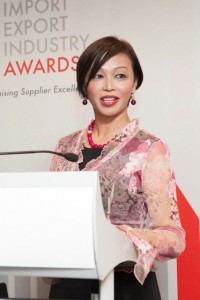 Social Share