Tags :
Burberry
,
China
,
Crazy rich Asians
,
Denmark in Australia
,
Dr Caroline Hong
,
fashion
,
Gucci
,
Hermes
,
Hermes. Prada
,
jewellery
,
Louis Vuitton
,
luxury
,
Retail
,
Retail Business Forum
,
Shopping
,
SMEs
,
Versace
Featured in MSME Newsnetwork 26 May 2014
I recently participated as a panelist on luxury and premium Chinese Consumers at the Australia China Business Week event in Melbourne, and also spoke at a Retail Business Forum for the Denmark in Australia Trade Commission, in Sydney about retail strategies to attract the Chinese consumer.
More than ever before, the retail industry in Australia, most of whom are SMEs, are taking a keen interest to seize the opportunities available from the growing spending by Chinese visitors from mainland China.
According to latest International visitor reports, about international visitors to Australia spent a total of AUD$28.8b (US$26.6b) in Australia last year, a jump from the previous year of 6%.
More interestingly, in spite of the recent changes and restrictions by China on extravagant spending and on cut price shopping tours, spending, the actual average spend per visitor is up by 17% and the total spend is up by 13%, towards a higher spending experience rather than the group cut price shopping tours.
Spending by Chinese visitors in Australia are the biggest spenders, topping AUD$4.8b in 2013.
According to Euromonitor reports, luxury good sales are US$317b business and growing globally. Chinese luxury spending is on the rise and rising steeply. The forecast growth of high earners in China over 2014 to 2030 is predicted to be in excess of 200% compared to 80% in USA. The wealthy in China are also much younger, with 40%-49% accounting for over 50% of the highest income earners in 2013.
China is the top of 10 emerging markets in Luxury goods absolute growth, followed by Russia. Malaysia ranks top eight emerging market for luxury goods and is cited as an unsung hero for global luxury goods, and poised to be the world's third fastest growing luxury goods market after India and China. In India, often luxury goods are viewed as adornment, investment and asset and a marker of success. Personally, I think it is an appreciation of beauty and creativity.
From 2008 to 2013, luxury bags sales grew by 41%, followed by luxury timepieces and luxury jewellery. Brands like Hermes. Prada, Versace, Gucci, Louis Vuitton, Burberry are aspirational brands to many of the Chinese from mainland China. It is not surprising that these people would travel thousands of miles across the globe to buy the real handbags.
They trust the products more if they are purchased overseas and would go to great extent to hunt the real bargains, often making the main activity of their overseas travel on luxury shopping!  I know I enjoy visiting the stores with beautiful things like shoes, handbags, clothes and jewellery. It is not uncommon for me to fall in love with one shop or brand and make many purchases from the store from head to toe.
I often joked that retailers love having me as their customer, as when I go shopping, it is a serious affair when my business mind looks at this goes with that and that and that!
So, what does this mean for the retail SME sector in Australia?
We are seeing changes in the shopping experience around Australia particularly in the major cities, with stores wanting to learn how to attract the Chinese consumers, and get them into their shops rather than circling outside them.
Australia is well stocked with stores and brands from all around the world. Luxury brands from Australia and Europe, are cheaper to buy in Australia than if they were purchased in China because of taxes imposed in China for the Chinese consumers. There are also more choices and the Chinese trust overseas luxury brand shops more, with the biggest fear that they don't want to be caught paying luxury price for a fake product!
It was interesting to see collaboration activities, one of which was a VIP event co hosted by Westpac bank, Burberry and Harper's Bazaar magazine in Sydney. It was pleasing to see that they are making great effort to raise awareness of their brands, including, private wealth banking, fashion and publishing.
Retail SMEs whose targets are the luxury consumers or the international consumers, can make small changes in their stores to enjoy the influx of new arrivals, many of whom want to shop and spend.
However, it is not easy unless they understand the traits of the Chinese consumer.
The Chinese consumer is also evolving.  According to China Skinny, mark tanner, says that more than 80% of Chinese travellers from mainland China, cite, shopping a crucial part of their travel plans. The Chinese internet users are the highest users in the world of social media, and as high as 90%.  The Chinese shoppers also follow brands, more than the global trends, as high as 60% versus 38% globally.
More than 40% use social media to make buying decisions, and may view as many as 10 websites before they make a decision to buy.
Imagine this retail shopping frenzy when there are discounts and bargains of luxury items on sale!
The retail industry in Australia is presented with the challenge on how to reach out to the Chinese consumer market, the wealthy Chinese visitor who on an average, spend more than international visitors from other countries.
There are a wide range of strategies including creating an awareness of their brand and having an online presence in Chines social media.  Marketing to the premium Chinese consumer is highly dependent on social media and understanding culture.
Some of the strategies can include, specifically tailored marketing to the Chinese in Australia, who will then in turn spread the stories to their friends and followers in China, And the other is to target the visitor Chinese, giving them reasons to go viral to showcase their  purchase and taste of luxury brands to their friends and families in China. There are the traditional marketing strategies via the newspapers, magazines and social media online presence via WeChat and Weibo.
So, what does a luxury premium Chinese consumer want? They all want the luxury experience and not missing out of what was only a dream only a few years ago. Men and women are becoming more discerning in their tastes and can be demanding in their retail shopping needs.
Whatever that premium consumer wants, we hope they do not become known as the 'Crazy Rich Chinese' as described in the outrageously funny best selling novel by Kevin Kwan called 'Crazy Rich Asians'.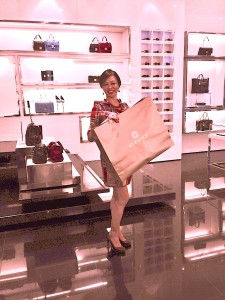 Social Share