As one of the appointed NSW Ambassadors for the 2017 Vinnies CEO Sleepout, we are raising funds for homeless services.
Like many others, I want to be part of the solution Just 20 days until the 2017 Vinnies CEO Sleepout! I will be joining around 350 leaders of the business community at the iconic SCG to sleep rough in support of the 105,000 people experiencing homelessness each night in Australia. All donations go directly to Vinnies homelessness services and are tax deductible. We will not solve homelessness overnight, but together we can be part of the solution. Donate generously.
To support our efforts please go to
www.ceosleepout.org.au and choose donate to CEO.
Thank you to all generous supporters of previous years.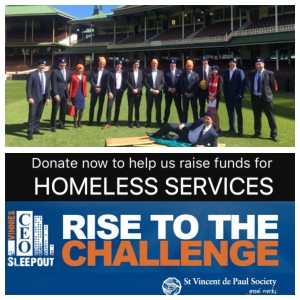 Social Share