Tags :
Ashurst
,
Asia Link
,
Asian Australian
,
Asian Century
,
Blake Dawson
,
Businesswoman
,
Dr Caroline Hong
,
Free Trade Agreement
,
Japan
,
NAB
,
National Australia Bank
,
Natsuko Ogawa
,
Shinzo Abe
,
Tony Abbott
,
University of melbourne
,
University of South Australia
,
Women in Asia
Every now and then I get invited to attend a business event in a room full of women. On 16 July 2014, I was privileged to join a group of dynamic business women at a boardroom luncheon sponsored by NAB and organised by Asia Link, University of Melbourne.
The Asialink Women in Asia series provides women in senior leadership roles with the opportunity to exchange insights and share ideas on ways to navigate the complexity of doing business in the Asian region. This Asialink Boardroom Luncheon is an exclusive invitation only event for senior women in the corporate, government, academic and not for profit sectors.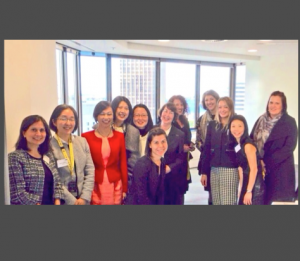 I was most impressed with the calibre of women as I was with the guest speaker, Ms Natsuko Ogawa. Natsuko returned to Melbourne in January of this year after a four-year assignment in Japan. Natsuko is a partner in the Melbourne office of Ashurst Australia and has been an integral part of the firm's Japan practice.  Blake Dawson (now Ashurst) became the first Australian law firm to open an office in Tokyo in 2010 and Natsuko was appointed as the first resident partner of that office.  She has advised a number of major Japanese trading companies, financial institutions and corporates on their acquisitions in Australia, and on matters relating to their projects and joint ventures. She spoke about her experiences including the challenges in setting up the Tokyo office of Blake Dawson in 2010, her views on what Australia should be doing to further its engagement with Japan, as well as personal reflections from her time in Japan.
Natsuko's stories also reminded me of my learnings from my earlier days studying a semester of "Management Japanese Style" as part of my postgraduate studies at the University of South Australia in the late 1980s.
Asia is such an interesting place, rich with diversity and culture, and yet often also complicated by its diversity and cultural differences. This applies in everyday life and in business. Unless we get culture right, and take the time to learn and respect the difference when we are engaging with Asia, it could be a long tough journey to success. Similarly, the Asians. particularly, the younger generation, are also fast learning about our Australian way of doing business and about our 'culture'.
Natsuko's talk was timely, as our Prime Minister Tony Abbott had just signed the Free Trade Agreement with Japan's Prime Minister Shinzo Abe.  It is hoped that the FTA with Japan would ease trade and cooperation between Australia and Japan.
Natsuko's story is interesting because she is Australian born and has retained her heritage, culture and language, and gets away with a hint of  Aussie humour. I enjoyed meeting netsuke and participating in the candid conversation around the boardroom table on Level 28 of the NAB headquarters.
Thank you to the National Australia Bank and to Asia link for hosting this boardroom luncheon, and encouraging diverse robust conversations in the boardroom.
Social Share