Tags :
Alibaba
,
Alipay
,
Asian Australian
,
Asian Century
,
business
,
business events
,
Businesswoman
,
China
,
China Digital
,
China Online
,
China Skinny
,
David Thomas
,
Dian Dian
,
Douban
,
Dr Caroline Hong
,
E-Commerce
,
JiePang
,
Online shopping
,
Panyou
,
QQ
,
Ren Ren
,
Shanghai Free Trade Zone
,
Sina Weibo
,
Singles Day
,
small and medium enterprise
,
SME Association of Australia
,
SMEs
,
TenCent Weibo
,
Trade
,
WeChat
,
Weibo
,
Youku
THE BIGGEST ONLINE SHOPPING EVENT IN THE WORLD
China celebrated Singles' Day on November 11 – a 20-year tradition now fully entrenched with China's youth. It's like an anti-Valentine's Day, when China's unmarried men and women use it as an excuse to go shopping. It is the biggest online shopping event in the world.
In Australia, we see a continuum of sales – Christmas, Valentine's Day, Easter, Mother's Day, Father's Day, and then it's Christmas sales again. But nothing in Australia compares to the frenzied online sales that go viral China's Singles Day.
Here are some statistics from research agency China Skinny. "It took just six minutes on Monday morning for Chinese desktop shoppers to spend ¥1 billion ($160 million) on Alipay [China's leading third-party online payment platform]. Before lunchtime, 1.6 million bras had sold, three times the height of Mount Everest if folded and stacked. Two million pairs of undies were also scooped up. By midnight, 402 million unique visitors, almost one in every three Chinese, had checked out the deals on Tmall and Taobao, placing a whopping 171.4 million orders; contributing to a total of 324 million parcels expected to be delivered in China this week. A grand total of ¥35 billion ($5.7 billion) was spent, 83 per cent more than the 2012 Singles' Day record breaker, and two and a half times the size of America's Cyber Monday last year – firmly cementing it as the biggest one-day shopping day on the planet. More than two per cent of all China's online shopping for 2013 happened within the 24-hour period. No other event demonstrates the scale of China's online influence, and the opportunities it presents, quite like Singles' Day."
I was privileged to moderate a panel discussion on, "Create your social buzz – Content is King" at the China Digital Conference in Sydney November 21. At this inaugural China Digital conference, key players in China's E-volution came together to share valuable insights on the China Digital landscape. Executive representatives from China include Tony Shu from TenCent, Michael Lee from Alibaba, Baidu and Roy Ng China Mobile.
The Chinese media presented panel discussions and tweets throughout the day and the social media buzz was all about the online retail boom, e- commerce in China, options for e-commerce, setting up a business to trade online in China, unlocking the Chinese market in Australia, and how to define your online strategy. With nearly 600 million internet users in China, this opens up massive opportunities for Australian businesses that have an online presence to drive their China strategy, especially in tourism, education, business services, property, fashion, retail and food & beverage. It was reported that a second-hand Australian aircraft was sold online to a Chinese buyer for more than AU$1 million.
The social media landscape is vastly different in China. There is no Facebook, no Twitter, no YouTube. However, that's going to change. The Chinese government will allow Twitter and Facebook in the new Shanghai Free Trade Zone, which is due to open in 2014.
So if you're marketing your online presence for the Chinese markets, your strategies would have to use Chinese social media platforms. Basically, an effective social media strategy means you have to make your content real, user focused and have effective consumer engagement. It's important to get familiar with these Chinese websites: Sina Weibo, TenCent Weibo, Ren Ren, Penyou, QQ, Douban, Dian Dian, Youku, WeChat, JiePang.
If you're having second thoughts about social media, think again. In entering the Chinese market, you cannot afford not to have an online presence. If you think social media is only for teenagers, think again. The top two tweeters of the day at the China Digital conference were two mature ladies.
Dr Caroline Hong is an Ambassador for the SME Association of Australia and provides insights in helping businesses engage in the Asian Century.
This article appeared in the MyBusiness magazine, official publication of the SME Association of Australia, November 2013 issue. The magazine is also seen in Qantas and Virgin business lounges.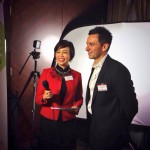 Social Share