Tags :
Asian Century
,
billionaires
,
business
,
business events
,
Businesswoman
,
China
,
Dr Caroline Hong
,
entrepreneurs
,
Forbes Billionaires List
,
Guiping Fang
,
Hurun's List
,
millionaires
,
success
,
Zhao Zunfei
Women entrepreneurship attract interest and attention globally. (This article is reprinted from Business Circle Sept 2016 issue by the same author)
This year's richest Chinese woman on the 2016 Forbes Billionaires list is a self-made billionaire, turning her fate of poverty into a fate of fortune!
I have seen a shift in women entrepreneurs and women starting their own business in Australia and around the world, more noticeably in Asia, where I have been travelling for work and business for over 15 years.
I am impressed by the increasing number of women at business meetings in China, and many of whom are owners of businesses and hold senior management or Board roles in their Chinese companies.
More extraordinary is the increasing number of women from China who have succeeded in the business world to acquire massive wealth, many of whom, started from a life of hardship and poverty, and making it to the Forbes Billionaires List.
This year's Forbes Billionaires List shows 23 women are from China (including Hong Kong) but only 3 are from Australia. The 23 Chinese women billionaires range in age between 34 and 75 years. The 3 Australian women billionaires are aged between 51 and 63 years.
10% of Chinese billionaires are women
More women are becoming independent, entrepreneurial and wanting more from their place in society. Women hold half the sky in China and is a valuable contributor to the economy. With the recent social and economic development in China, entrepreneurial women are seizing opportunities and willing to have a go. With persistence, resilience, access to internet, a mobile device and an innovative idea, that is often enough to spark a new business. Some fail, others succeed, and some take many attempts to reinvent themselves to make it to the top. The resilience and determination to achieve success and to get out of the poverty experienced by their previous generations, is producing many new self-made millionaires and billionaires. There are more than 270 billionaires in China (including Hong Kong), second to the US. Almost  10% of these Chinese billionaires are women.
More women are also seen in senior management roles in China in spite of the gender obstacles.
According to a recent study by Grant Thornton, 19% of women in management in China are serving as CEOs, and women hold 35% of senior management positions in China whilst in the US and Europe, the figure is 20%.
Women often have to overcome obstacles due to traditional Chinese values about the place where women and men occupy in Chinese society, difficulty to access to bank loans and traditional expectations of women to be the main carers for the young family and their elderly parents.
Despite the challenges of gender inequality and discrimination for women in the workplace and in business, an extraordinary trend in China is the increasing number of women who made it to successful rankings of wealthy millionaires and billionaires, many of whom got there on their own hard work and entrepreneurial drive.
Women entrepreneurship growth in China is certainly going to change the way Australians do business with Chinese in China
Don't be surprised that you will be dealing with a women chairman and owner operator. They will be the ones driving many of the key decisions. It pays to find out the gender before making assumptions that the owner, senior manager or Chairman is a man.
According to recent reports, the number of women entrepreneurs makes up one quarter of the total number of entrepreneurs in China. Many new businesses are started by women each year. In fact, about 55% of new Internet businesses are being founded by women. Chinese e-commerce is booming at a rate of progress that could see China leapfrog ahead to be a world leader, with a majority led by women entrepreneurs.
Already 8 out 10 of the world's richest self-made women (not from inheritance) come from China according the Hurun research report. In fact, two-thirds of all self-made women billionaires are from China. 23 of China's richest women also made it on the 2016 Forbes Billionaires list.
Successful Chinese entrepreneur women
Topping the list of a self made billionaire is "touchscreen Queen" Zhou Qunfei, the founder of Lens Technology, which makes touchscreens for mobile devices. Zhou Qunfei is currently the world's richest female tech founder, with a majority stake in one of the world's largest makers of glass covers for mobile phones and tablets.  She is an inspirational success story of an entrepreneur woman, who rose from poverty to wealth, a self made billionaire, worth $5.9 Billion according to the 2016 Forbes Billionaires List. A school drop out at age 16, she lived a life of poverty, raised by her blind father in rural Hunan. She started her own business with $3000 in 1993, and in 2015, her company Lens, was listed in the Shenzhen's ChiNext board.
The Hurun report in 2015, also shows that Chinese female entrepreneurs are collectively worth about three times as much as their US counterparts.
Other successful Chinese entrepreneur women that are inspiring include:
Chen Lihua/Chan Laiwa (Fu Wah International), Yang  Huiyan (Country Garden Holdings), Wa Yajun (Longfor Properties), Zhang Yin (Nine Dragons Paper), Zhang Xin (SOHO China), He Qiaonv (Orient Landscape), Lu Qianfang & Chen Zhoulin (Agile Property) and Ma Dongmin (Baidu).
Zhang Xin, co-founder and CEO of SOHO China; Yang Mian Mian, President of the Haier Group; Eva Cheng, Chief Executive of Amway (Greater China and Southeast Asia, and Jing Ulrich, Chairperson and Managing director of JP Morgan Chase (China Equities are role models and are presented as the face of the new China, as some of the most influential Chinese women in the Forbes magazine.
The Forbes billionaires list also include these Chinese women: Yang  Huiyan (Country Garden Holdings), Chen Jinxia (Hunan Yongjin Group), Lei Jufang (Tibet Cheezheng Tibetan Medicine), Wang Laischun with Wang Laisheng (Luxshare Precision Industry, Chen Baozhen (Wangsu Science & Technology), Zhu Chongyun Shenzhen Marisfrolg Fashion), Cheng Xue (Foshan Haitian Flavoring), Fan Zhaoxia (Beijing Jingyuntong Technology), Li Tan (Shenzhen Hepalink Pharmaceutical), Jane Yan/Wang Jia (Beijing Venustech)
Hurun says that of China's 50 wealthiest women overall, including those with fortunes both self-made and inherited 36 earned their fortunes independently and are self made wealth.
Other famous Hong Kong based Chinese women billionaires who made in to the Forbes billionaires list this year are Vivien Chen (Nan Fung Group) & MGM China), Pansy Ho (Shun Tak Holdings & MGM China), Pollyanna Chu (Kingston Securities), Lam Wai Ying (Biel Crystal Manufactory).
Although not on the Hurun rich list, I personally believe Liu Qing (CEO of Didi Kuaidi), is a rising women entrepreneur to watch. She has spent billions to fight Uber in China. There are many entrepreneur women like her creating new innovative and disruptive business as the Chinese society is changing dramatically. The young and better educated women are ambitious and motivated. They want to seize the opportunities and become successful business executives and entrepreneurs.
Chinese Returnees
Another interesting observation is the contribution of Chinese returnees. They are relatively more educated, start their businesses younger or reach executive positions at a relatively young age. They are also able to add value by utilizing their external contacts and knowledge in addition to local "relationship" networks. They can contribute to the development of China through innovation by bringing established and new foreign ideas back to China. Chinese women entrepreneur returnees can do well in their home country as well as contribute to the global platform. There are many successful Chinese Australian business women who have started their own businesses in Australia, but currently spend a considerable part of their time doing business in China, tapping into their Chinese networks and bringing their connections back to Australia. They often describe themselves as the "bridge" for Australia- China opportunities.
What is the scene for women entrepreneurs in Australia compared with China?
Australia ranks second best place, as a place for women to set up their own business by world standards, for women entrepreneurs, coming in just behind the US and ahead of countries such as the UK, France and Sweden. The 2015 Global Women Entrepreneur Leaders Scorecard showed Australian women are in a much better position to set up their own businesses than women in many other countries as they have access to equal rights, finance, technology and high standards of education.
The NSW Department of Industry in Australia produced its latest statistics (2014) in regard to female entrepreneurship in February 2016, with the aim to help inform discussions
about how to increase participation of females in the NSW startup eco-system.
More than 25% of start-ups in Australia were founded by women. 34% of business operators in Australia were women. 32% of women business operators live in NSW.
In the last 20 years, there has been a jump of 46% increase in women business owners compared to 27% increase in men business owners.
57% of women operators in business say they are happy with the quality of their lives.
The ratio of male to female business operators by age group is 1:1 for 15- 19 year olds and 2:1 for the 20-54 year olds, as compared to 3:1 for the over 70 age group.
The report shows the proportion of women business owners increases with age. The biggest single concentration of women business owners are between the ages of 44 and 55 years.
So who are the Australian top ten entrepreneurs in 2016?
Top on the list is Katie Page with her husband, Gerry Harvey, whose company, Harvey Norman has a revenue $2.71 Billion. Followed by Gina Rinehart, mining magnate, whose company, Hancock Prospecting has a revenue of $2.04 Billion. In third place is Vicky Teoh, with David Teoh, and their company TPG has a revenue of $1.27 Billion.  Others include Lesley Gillespie of Bakers Delight, Maxine Horne of Vita Group, Naomi Milgram of APJ Group, Yende Lee of Bing Lee, Janine Allis of Retail Zoo, Charlotte Vidor of Toga Group. Sue Hollis of Travel Edge (Source: Smart Company 2016).
On 2016 International Independent Women's Day, nine most influential women entrepreneurs were named. They are women who are disruptors, innovators and have built their own businesses and had a lasting impact on business in Australia. They include
Jessica May, founder of Enabled Employment
Emma Welsh, co-founder Emma & Tom's
Leanne Faulkner, founder of Billie Goat Soap and mental health advocate
Janine Allis, founder of Boost Juice
Michelle Melbourne, co-founder of Intelledox
Emma Isaacs, founder of Business Chicks
Monica Meldrum, co-founder of Whole Kids
Jo Burston, founder of Job Capital and Inspiring Rare Birds
In Australia, most women who decide to start a business, do so because of a sense of empowerment and control that they have over their careers, giving them the power and freedom to decide how, when and where their work in their business is conducted. Often it is the flexibility, that it offers that women entrepreneurs choose to start their own business. These women may have to work longer hours but they generally still prefer that choice to have better flexibility and control over their work life and family responsibilities.
Watch out for the younger generation Chinese women
Whilst Australia ranks highly for a women entrepreneur to start a business, on a global scale, the women in China will be the ones to watch. This is because the younger generation Chinese women are becoming more educated, more globalized and they have more opportunities that they can seize now more than ever before with the rapid pace of social and economic development in China.
Wealth and philanthropy
As the more Chinese women in business become millionaires and billionaires, they are also likely to be the ones who will be searching their inner souls, after they have achieved their China dreams and have reached the global rankings of the world's richest Millionaire and Billionaire.  It would be likely that these successful women would be called upon by other women, their 'sisters' in their own country and around the world to help promote gender equality, alleviate poverty, and to make a difference to the world through charitable causes, philanthropy and ethical and social investments in the next generation for a better world. They can start by influencing the younger generation and being role models for the Chinese people in China and overseas. They can really be the champions in influencing change for the next generation women in China and around the world.
The rise of Chinese women in business is indeed a growing trend and one to be respected. After all, women do hold up half the sky.
Read ihis article on this  link to the bilingual business magazine, Business Circle, http://www.business-circle.com.au/en/?p=3281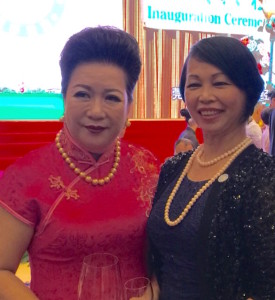 Ms Guiping Fang, President of the Women World Dongguan Ebtrepreneurs Federation  with Dr Caroline Hong at the World Dongguan Entrepreneurs Convention 2016 in Dongguan, Province of Guangdong, China.
About the Author:
Dr Caroline Hong, FAICD
BDS (Uni Adel). GDHA (Uni SA). MHA (Uni NSW). FSAE. FADI. AFCHSM. FAICD
Email: carolinehong@carolinehong.com.au Mobile: +61 410474898www.carolinehong.com.au 

Caroline is the CEO & Founder of CH Asia Australia Pty Ltd, Business Partner of Andrew Stoner & Associates, Chairman of China HR Australia, Associate Director of the Sydney School of Protocol, and is a company director and advisor for several private, unlisted and charitable organizations.

An Asian Australian Business Woman in an Asian Century, with a unique and diverse background over 30 years in Business, Healthcare, Government & Associations, Caroline is an experienced strategic facilitator of investments for Australia, Asia & China projects .A community and business leader, she adds cultural, professional, gender & ethnic diversity to the Asian and Australian boardrooms.

 

———————————————————-
Social Share