Tags :
Alison Watkins
,
Ashley Spencer
,
Bernard Fehon
,
Best&Less
,
business
,
Caroline Hong
,
Cato Counsel
,
CEOs
,
CH Asia Australia
,
Charity
,
Christine Bartlett
,
Coca Cola Amatil
,
community
,
Ellie Comerford
,
Genworth
,
Hill+Knowlton Strategies
,
Hilton
,
Holly Kramer
,
Homelessness
,
Leaders
,
Martine Jager
,
Media Launch
,
Michael Perusco
,
Mirvac
,
Penelope Holloway
,
RAMS
,
Sue Cato
,
Vinnies
,
Vinnies CEO Sleepout
2015 marks the 10th anniversary of the Vinnies CEO Sleepout. The year  also marks my 6th consecutive year that I am participating in this annual  charity event, and as a member of the NSW Vinnies CEO Sleepout Ambassador Committee.
The NSW Vinnies CEO Sleepout 2015 held its media launch in Sydney Martin Place on 9 April 2015.
This year's launch puts a spotlight on homelessness amongst women.
Female business leaders who attended the launch included Alison Watkins, Coca Cola Amatil; Sue Cato, Cato Counsel; Caroline Hong, CH Asia Australia and Penelope Holloway, Hill+Knowlton Strategies. Other female leaders sleeping out include Holly Kramer, Best&Less; Martine Jager, RAMS; Ellie Comerford, Genworth; and Christine Bartlett, Mirvac.
Photo: Dr Caroline Hong with Bernard Fehon, inspirational Founder and Michael Perusco, CEO NSW Vinnies.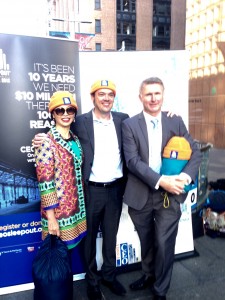 In Sydney, Vinnies (St Vincents de Paul) provided
# 3500 meals through the Sydney Vinnies van
# a safe haven for 678 women and children experiencing domestic violence.
# 93 people with skills to enter the construction industry
# 286 men with physical and mental well being support via the OLC's men group
Yet everyday there are at least 105,000 people who are homeless.
44% of these are women , many with acommpanying children
60% of  the homeless are aged  under 35, the prime period of one's life.
This year, CEOs, business and community leaders will sleep out rough for one night to raise awareness and necessary funds for homeless services.
Please support for my 6th consecutive year to rise to this challenge by going to this site to donate.
https://www.ceosleepout.org.au/ceos/nsw-ceos/caroline-hong-ch-asia-australia/
Choose Donate to CEO, select Caroline Hong. The donation will go directly to Vinnies and will add to my goal, of raising at least $10,000 for homeless services this year.
If 1000 CEOs did that, we should reach a goal of raising $10,000,000 in 2015 on 18 June.
Thank you to everyone who has supported me in the past 5 years and continue to support me thsi year.
In Memory of Ashley Spencer: CEO Sleepout Ambassador and champion for NSW Vinnies services
I take this opportunity to also pay respect in memory of our good friend of Vinnies NSW, Ashley Spencer, former VP of Operations, Hilton Australasia, who sadly passed away on the evening of 9 April 2015.  Ashley was a strong supporter of Vinnies homeless services and was responsible for providing the Vinnies Food Van and instilling in his team, a sense of volunteering for the OLC and food services to the disadvantaged, each night.
Ashley was the key person who supported and gave me courage to register for the CEO Sleepout in 2010 for this worthy cause. Ashley supported my participation in 2011 and 2012, as my "buddy". Ashley unfortunately lost his battle to cancer. He was given the terrible news of his diagnosis on the day of the 2102 CEO Sleepout event, yet he continued to participate.
Ashley, rest in peace.  Our sincere condolences to his family, friends and staff who worked with Ashley. He was a remarkable man, highly respected, with a sense of service and community, and a good friend to many. His friends at Vinnies will remember him fondly.
Some photos of Media Launches
Photos of the 2015 Media Launch, and past Media Launches in 2014, 2013, and 2012.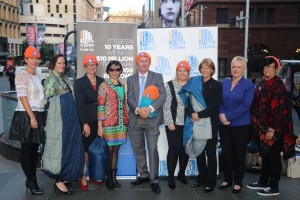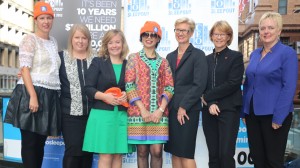 Social Share