Tags :
agriculture
,
ANZ-ASEAN
,
ASEAN
,
Asian Australian
,
Asian Century
,
Associations
,
Austrade
,
BDMs
,
Board Directors
,
Brisbane
,
business
,
Business etiquette
,
business events
,
Businesswoman
,
CEO
,
CFOs
,
CH Asia Australia
,
CHAFTA
,
China
,
Consultant
,
Culture
,
DFAT
,
Dr Caroline Hong
,
Education
,
Export
,
Free Trade Agreements
,
FTAs
,
Healthcare
,
Invest in Australia
,
investment
,
JAETA
,
Japan
,
Korea
,
Korea (KAFTA)
,
MAFTA
,
Malaysia
,
Masterclass
,
MDs
,
Melbourne
,
professional services
,
SAFTA
,
Singapore
,
small and medium enterprise
,
SMEs
,
success
,
Sydney
,
TAFTA
,
Technology
,
Thailand
,
Tourism
,
Trade
Life is like that. Let us not let Asia pass us by…
My engagement with Asia as an Australian citizen started in 1987.
It was one of my proudest moment when in 1987, as a second generation overseas born Chinese, living in Australia, I travelled on an Australian Diplomat passport, representing South Australia, to travel to Shandong Province, as part of an Australian delegation to visit and review the dental services in Shandong Province.
I was a young dental surgeon, working for the South Australian Dental Services, and a healthcare delegation from Shandong Province was visiting. One of the facilities they visited was the Parks Community Center, where I welcomed and proudly showed the delegation around, in my role as Director of Dental Services at the Parks Dental Community Centre.
It was our Australian healthcare and dental care system which impressed the overseas visiting Chinese healthcare delegation, which won their hearts and curiosity. But I am sure it was the fact that they were most surprised to see me, then, a young Asian woman, in charge of an Australian government community dental service, and my ability to engage and communicate with them and to spend time with them to explain in the context that they could comprehend about the preventative dental health care system that was practised, that led to the invitation that ensued from the Chinese government to our organisation at that time, to visit Shandong Province.
Very little was known about China but fortunately, I had the foresight to write a short article to document the historic moment of our first engagement with China, "A Glimpse of Dental Services in Shandong Province", which was published in the Australian Society of Endodontology Newsletter, of which I was then, the Federal Secretary and Treasurer on the Executive Committee.
Wind the clock forward to 2001. For ten years, working as the CEO of a medical multidisciplinary peak body for medical imaging ultrasound specialists, including sonologists and sonographers, I had the privilege to implement the Asia Link program for the organistation.
That started an intensive 10 years of doing business with Asia for the medical body, the Australasian Society for Ultrasound in Medicine.
When the organisation embarked on the most ambitious project, after bidding in 2001, winning in 2013, launching in 2006 and hosting in 2009, it was so clear to me and a select few, how important Asia was to Australia.
In the year of 2009, the global financial crisis hit us and affected many suppliers, sponsors and potential delegates, all of whom we relied upon to support our prestigious and ambitious project of hosting a world medical ultrasound congress in Sydney.
What truly surprised many of us as an organisation, was that out of the 2400 delegates who came from 70 countries to Sydney, more than 700 delegates came from Asia, 300 of whom came from China alone! It was certainly the first time that such a large delegation came from Asia and China to one event in Sydney!
There was much to be learnt from the world congress event, a project that took most of my focus for a decade cultivating a long term relationship with Asia.
Reflecting upon that, there were many valuable lessons that everyone can benefit from that experience and outcome. They include:
– the value of developing a long term engagement with Asia
– building relationships and trust when engaging with Asia
– Mianzi, or Face, national and individual face
– embracing  cultural differences
– and much much more
It was probably one of my most enjoyable and challenging career, spanning ten years from 2001 to 2011, working for the medical body as its first CEO, being woman and Asian, leading a prestigious body.
Anyone who has  been a CEO of a professional association would understand the joys of working for a mission driven organisation, and would also understand the challenges of a membership organisation. with a diverse and multidisciplinary focus, and taking it to an international platform, lifting its profile and its competitiveness globally.
So, what has it got to do with "Doing Business with Asia"?
I have just completed facilitating a two day Masterclass in three cities, Sydney, Brisbane and Melbourne, approached and engaged by Akolade (an events company).
Although daunted by the work involved, now that the Masterclasses have been completed, it is clear to me that more of such Masterclasses events are needed for Australian businesses.
The audience came from diverse sectors and industries including from the government, logistics, healthcare, chemicals, manufacturing, education, university, infrastructure and more. All are mid sized and large sized company personnel, including, board directors, CEOs, MDs, CFOs, Business Development Managers, Product Development Managers, New Business Development Managers and more.
I was impressed with the level of interest, because to be able to take two days out of a busy business schedule is a big deal for these companies. They were definitely curious, interactive and participative. I enjoyed facilitating, speaking and moderating questions and answers as I shared my past three decades of insights and wisdom about doing business with Asia, in two  days with the participants.
When we talked about Guanzi (relationships), I could see a deeeper level of Guanzi being developed amongst the participants. It happened naturally because we spent two days in each other's company. Speaking, discussing, sharing and eating together.
So, what did we discuss?  What questions were asked and discussed over the two days?
The first day was setting the scene with an overveiw, giving context to why Asia is important to Australian businesses, and not to let Asia pass us by. Discussions included these topics:
Achieving an Asia Business Strategy
The impact of all relevant Free Trade Agreements (FTA's) on business with Asia
Developing a strategy & exploring the legalities of expanding into Asia
Local partnerships: How to establish them and how to choose what is best for you
Business readiness diagnostics
The second day program about Culture was the most popular and often most misunderstood aspect of doing business with Asia. We discussed these key issues:
Understanding the value of culture
Communication offline, online and face to face etiquette in business contexts
How to add value to your relationships for enrichment, and trust
How to develop and expand a brand in Asia
Thank you to everyone who came and shared your stories, participated and contributed to the group discussions. I encourage you and I know you have already started developing the Guanzi from the two days being together with each other.
Thank you to Akolade for inviting me and giving me this opportunity to facilitate the MasterClass "Doing Business with Asia".
Special thanks to Jenny Yang and also to Rachel Coburn, Vivian Ng and Luana Clarke for their assistance in making the programs possible and an enjoyable experience.
If you wish to know more about "Doing Business with Asia", you can reach me by email: carolinehong@carolinehong.com.au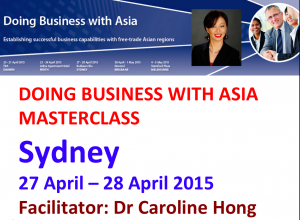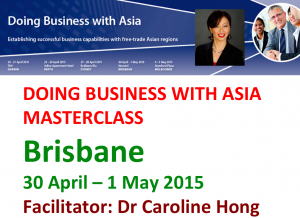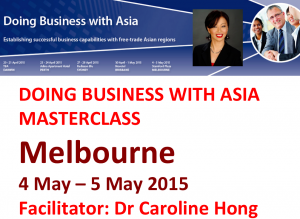 About Dr Caroline Hong FAICD
For International Asia business consulting & projects
CEO & Founder, CH Asia Australia www.carolinehong.com.au
Associate, Andrew Stoner & Associates www.andrewstoner.net.au
Vice Chairman, Sports Aviation Flight College Australia Ltd www.sportsaviationaustralia.com
President & Chairman, China HR Australia www.ChinaHR.com.au
President & Chairman, Asia HR Australia www.AsiaHR.com.au
Co-Founder & Director, Sydney School of Protocol – Asians in Australia
www.sydneyschoolofprotocolasiansaustralia.com.au
Business Partner, Think Global Consulting www.thinkglobal.com.au
Australian Representative, Sarawak Convention Bureau www.sarawakcb.com 
ANZ Representative – Eng Kah Enterprise SDN BHD http://www.engkah.com
About Dr Caroline Hong, FAICD – Honorary roles
Board Trustee, St Vincent's Clinic Foundation
Hon Adviser, Australia Malaysia Singapore Association (AMSA)
SME Committee, Australia China Business Council (ACBC)
Advisory Board, Ethnic Business Awards
Ambassador, Business Events Sydney (EBA)
Ambassador, Vinnies CEO Sleepout NSW (CEOSO)
Ambassador, Migration Alliance  (MA)
Hon Member, Australia China Economics, (Trade and Culture Association (ACETCA)
Connect, follow or chat with Dr Caroline Hong
Twitter @CarolineHong
LinkedIn www.au.linkdin.com/in/drcarolinehong
Facebook Page www.facebook.com/CarolineHongAustralia
Instagram dr_caroline_hong
You Tube – Caroline Hong channel
Skype caroline.hong
Weibo social media: Dr_Caroline_Hong
WeChat social media ID: DrCarolineHong
Social Share