(By Simon Lane, China HR, 7 March 2015) There has been much research over the last two decades that shows that organisations with women on the board improve the morale and ethical decision-making of the company. Whilst it's obvious that having a better representation of the consumer base allows you to be more responsive to your clients, organisations are finding that having gender equality at board level is increasingly becoming part of the social responsibility initiatives of most organisations.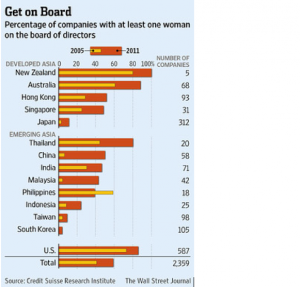 Australia has a distinct lack of women on its corporate boards when compared to Chinese organisations. According to the Australian Institute of Company Directors less than 18% of ASX 200 directors are women. In smaller organisations that representation is even less. However in Hong Kong and mainland China, companies that at least one woman on the board have increased sharply in the last six years. In Hong Kong, female boardroom presence has increased from around 28% to well over 50% whilst in mainland China the changes have been even more significant; 6.5% to 50%.
Dr Caroline Hong, President of China HR states that Australian-Chinese businesses have not responded as well as those in their homeland. "It continually puzzles me that such smart businessmen are not obsessed with the talent running their businesses and the diversity of thinking that supports it. Having grown up in environments in Asia where groupthink and compliance get in the way of good business, now they are in a more open and evolved working environment they continually miss the opportunity to bring balance to the organisation", says Dr Hong.
As a Malaysian born female executive, Dr Hong is regularly sought out by organisations to present on the female perspective when coupled with an Asian orientation in business. "I regularly receive very positive feedback on these presentations" commented Dr Hong. "However, I am constantly surprised that these business-savvy company directors who value my feedback overlook the opportunity to get it on a more regular basis as part of a board. It appears that they put great importance on the opinions of educated Asian females but do not want them involved in the decision-making process. This very much works to the advantage of their Australian competitors."
Dr Hong cites several Australian businesses to whom she consults or performs director's duties for where their perspectives are wider or more inclusive than their Australian-Chinese compatriots.
There are many good reasons why Chinese-centric businesses would be well-placed having Asian female directors as part of their board. This includes the logic that:
Diverse groups of people bring a greater variety of experiences;
Diverse groups bring different views to the decision-making process;
Diverse groups with better gender diversity better reflect organisational consumer bases;
Research shows that organisations that include females on executive committees and boards improve their average return by almost 50%
When organisations demonstrate value of both genders at its highest level, it provides confidence and inspiration to women with career aspirations.
"Given that over half of the adult population of the world are female, and given that the prominence of Asian women in Australia is increasing dramatically year-on-year, there are very few arguments that do not support the logic that having Asian females with good business experience on your board will improve your business outcomes," says Dr Hong.
One can only hope that Australian-Chinese businesses start to recognise the value of females on their boards as quickly as mainland China and Hong Kong have so that they too can compete on a better playing field in Australia.
Simon Lane is the Managing Director of China HR and Asia HR, businesses that are committed to helping Chinese centric organisations compete effectively in the Australian marketplace. For more information please go to www.ChinaHR.com.au
Social Share