Tags :
AANZFTA
,
Asia
,
Asian Century
,
Associations
,
Australia Malaysia
,
Australian Malaysian business forum
,
automotive
,
Banks
,
Building Material Distributors
,
business
,
business events
,
Consumer electronics
,
containers and packaging companies
,
Doing business with Malaysia
,
Dr Caroline Hong
,
Export
,
Franchisee or Retailers
,
Free Trade Agreement
,
import
,
import export
,
investment
,
investments
,
MAFTA
,
Malaysia
,
MATRADE
,
Mid Sized companies
,
Mid Tier companies
,
MIDA
,
MTCs
,
Networking
,
NSW
,
RCEP
,
small and medium enterprise
,
SMEs
,
Sydney
,
Telcos
,
Trade
Australia doing business with Malaysia. Why Australian Mid-Tier and SMEs should look at opportunities in Malaysia.
You are welcome to join me as my business colleague and invited guest to attend an event hosted by MATRADE in Sydney.
Date: Wednesday 23 August 2017
Time: 2pm to 5pm, followed by cocktail networking
Venue: Radisson Blu, Marble Room, 27 O'Connell Street, Sydney. NSW 2000
Kindly RSVP before 18 August 2017 to reserve your seat and receive further information.
Email to:  carolinehong@carolinehong.com.au  Mobile: +61 410474898
Who should attend:
Consumer electronics, automotive, containers and packaging companies.
Franchisee or Retailers, Building Material Distributors 
Banks, Telcos, Associations and Mid Sized companies
MATRADE is the National Trade Promotion Agency of Malaysia, with its Australian office located in Melbourne. See http://www.matrade.gov.my/en/about-matrade/matrade-network/worldwide-offices/australia
On 23 August 2017, you will get to hear more about MATRADE services and Doing Business in Malaysia. The event also offers a golden opportunity to meet key Mid-Tier  Companies, who have been identified by McKinsey & Company to have products and services suitable for exports into the Australian Market. These leading Mid-Tier Malaysian companies are here in Sydney presenting business opportunities for Australian companies to consider for potential collaborative partnerships, business, trade and investments opportunities.
MATRADE's Mid Tier Companies Development Programme (MTCDP) has been running since 2014. Mid Tier Companies in Malaysia are defined as companies with annual revenues between RM50 million  (AUD 14.7M) to RM500 million (AUD 147M) in the manufacturing sector and between RM20 million (AUD 5.9M) to RM500 million (AUD 147M) in other sectors.
Australia and Malaysia share a long history of good relationship.
Some facts to get you started:
In 2016, Malaysia was Australia's 10thlargest trading partner, with total trade amounting to AUD14.04 billion.
Malaysia was Australia's 7th largest source of imports in 2016.
Imports from Malaysia to Australia amounted to AUD9.31 billion
For the period of Jan – June 2017, Malaysia maintained its position among the top 10 largest source of imports for Australia, with the amount of imports valued at AUD5.58 billion. This is an increase of 21.8% compared to the corresponding period in 2016.
Malaysia was also Australia's major export destination, with total exports valued at AUD4.73 billion in 2016.
Exports to Malaysia from Australia was valued at AUD4.73 billion.
In trade, both countries are parties to a regional free trade agreement, AANZFTA (ASEAN-Australia-New Zealand Free Trade Agreement), a bilateral free trade agreement, MAFTA, and an upcoming and exciting Trade Agreement, the RCEP (Regional Comprehensive Economic Partnership).
Leaders of both countries had announced the elevation of the Australia-Malaysia relationship to a Strategic Partnership.
The elevated Partnership acknowledges the enduring nature of their bilateral ties, shared aspirations for stability and prosperity, and the depth and breadth of their cooperation across economic, foreign affairs, defence and security, and people-to-people spheres.
NB: Dr Caroline Hong, CEO, CH Asia Australia Pty Ltd, is a business consultant for international businesses, connecting Australia with Asia. This event is promoted on behalf of the MATRADE office in Australia.
Source: MATRADE in Australia
Contact me with your details and your  company details to attend this business event: Fee Complimentary
Email: carolinehong@carolinehong.com.au
Mobile:+61 410 474 898 (Mobile)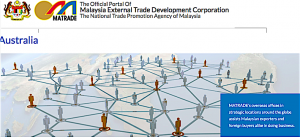 Social Share