Article by Caroline Hong, which appeared in the Dec 2012/ Jan 2013 issue of the My Business magazine and also on MSME news network.
Aussie SMEs in an Asian Century   "You cannot delegate relationship and trust building in an Asian Century."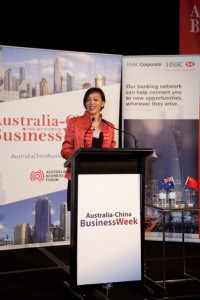 The recently released Federal Government White Paper Australia in an Asian Century has provoked a great deal of comment. One journalist asked me why is it that we don't hear very much from Asians living in Australia or from our Asian neighboring countries. As an Asian born Australian citizen with business experience, I feel qualified to answer many of the questions asked by SMEs regarding real opportunities for them to do business with SMEs in Asia. The White Paper details 25 objectives on seven major issues, about how Australia will become a more Asia-capable and more Asia-literate nation by the year 2025. The key issues include skills and education, innovation, infrastructure, tax systems, regulatory reform, environmental sustainability, and macroeconomic and financial frameworks.
With increased access to high speed internet and cloud technology services, Asia offers global opportunities and competitiveness for Aussie SMEs in all business sectors. China has the largest potential for the tourism market, education, professional services and more. Although very important, China is not all about mining and mineral resources.  Other countries such as India, Indonesia, South Korea and Japan also provide many SME opportunities. Other than Australian goods and produce, there are endless opportunities for expertise in HR, Legal, Finance, Health and various professional services that appeal to the Asian markets for the increasing population of wealthy Chinese.
Many professional associations representing various sectors have been forming relationships through programs called Asia Link. In a previous life I organised a medical business event in Australia that brought together people from 70 countries, including 300 doctors from China. One prominent Asian doctor said to me, "Westerners have been knocking on our doors offering to help with good intentions, thinking that they have all to teach us and nothing to learn from us. We do not always have to open the door, but this time we are happy to open the door for you".
To engage with Asia in business, Australians must never come across as being there to teach them. I often ponder whether Asians should be more Australian and whether Australians should be more Asian. I believe the value comes from embracing diversity.
The Confucius Institute and many other organisations teach business people on how to do business in China. I studied Management Japanese Style as one of my postgraduate business studies. Although born with strong Asian values, I found I had much more to learn about the differences in the different types of Asians and different cultures and the same business style cannot be applied to all Asians.
So how are SMEs in Australia going to embrace the Asian Century? It depends on what sector you are in, and which Asian country you wish to do business with. There are no easy answers. But I'm confident that if there is a genuine desire to add value to the business relationship for the benefit of all parties concerned, then there will be progress.
I have witnessed business transactions where language difficulties did not pose barriers. Once the trust factor and rapport is established, the business relationship continues on a strong and long-lasting footing.  However, it is not a one night stand. In Asia, whether you agree or not, it's still all about 'face'. They need wooing and the courtship might be too slow and too tedious for some, so make sure your business has the right people to do that. From my experience, if you can eat their food but not speak their language, you are already ahead of someone who cannot share their food but can speak their language. Businesses that have invested in relationship building often reap huge benefits and growth together with their business partners, often finding enrichment and enjoyment doing business in a diverse Asian environment.
Australia in an Asian Century is paved with great intentions and objectives, but it's useless without policy support and the funds to enable the implementation of the 25 objectives. So, yes, there certainly are an opportunities for Aussie SMEs in an Asian Century? But it's all going to rely on you doing the work and seizing the opportunities, because the government may facilitate the process, but they will not make it happen for you. Even if they were to bring the business opportunities to your door, dealing with Asia is all about relationships and trust. You cannot delegate relationship and trust building in an Asian Century.
"You cannot delegate relationship and trust building in an Asian Century."
————————————————————-
With acknowledgement and thanks to MyBusiness http://mybusiness.com.au  You can also subscribe for the digital edition on http://mybusiness.realviewdigital.com/
My Business is the official publication of the SME Association of Australia http://www.smeaustralia.asn.au
Contact Caroline Hong: carolinehong@carolinehong.com.au
Contact Caroline Hong, CEO of SMEAA: caroline.hong@smeaustralia.asn.au
Phone: +61 410474898
Social Share